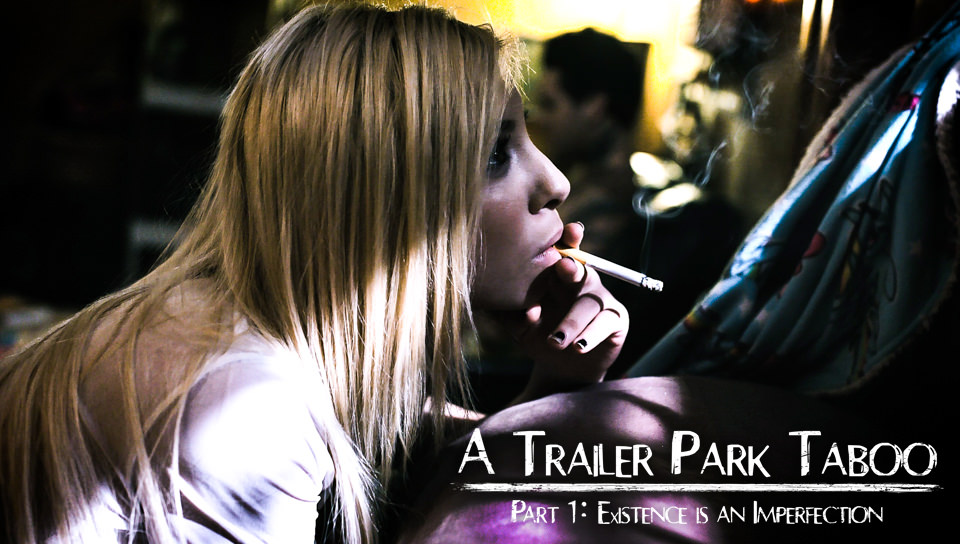 Trailer Park Taboo - Part 1
Winner XBIZ Best Sex Scene -- Feature Movie Kenzie Reeves & Small Hands
Scene opens to Kenzie Reeves lying on her bed, chest down, smoking a cigarette. She glares out the window as her brother Jack (Small Hands) reads a book on the living room couch. When she offers Jack a cigarette, he refuses, reminding her that he quit. She gets up from the bed and approaches the couch, telling him that he could just have one. He reminds her that people who quit tend to no longer smoke. When she confronts him as to why he's reading books all of a sudden, he gets visibly annoyed. 'I'm trying to better myself,' he retorts. When she tells him about all the good times they used to have getting trashed together, he shakes his head in bewilderment stating that that was almost a decade ago. She ashes her cigarette and it lands right in his book. Jack yells at her, telling her his schooling is important to him. But Kenzie is bored and doesn't care about her stepbrother's scholastic endeavors. She wants to kill some time and starts seducing him. He tells her to get lost but it's clear that Kenzie isn't going to let up. She gets on her knees and starts running her hand up his leg. Jack tells her that what they did in the past was a mistake; they were young and confused and didn't know any better. Kenzie starts jerking him off and Jack can't help but put his book down. He tells her that this is going to be the last time. She nods eagerly, desperate to feel his touch as he grabs her head and starts kissing her. He pulls down his shorts and shoves his cock deep down her throat. She chokes on it and gags taking it all in at once. He holds her hair and pushes her down on his dick as she swallows him whole. She takes both of his balls in her mouth as he slaps his dick on her face. When he gets up, he face fucks her, grabbing her by the throat and asking if she likes it. She nods as he picks her up and throws her on the bed. He removes her panties as she waits eagerly for his dick. He slaps her face as he shoves his cock inside her, asking her if this what she wants. She says yes as he pounds her cunt ramming her with every thrust. As she rides his dick, she makes sure he cums inside of her. He lies down instantly regretting the whole thing.
Scene cuts to Jack sitting up on the bed with a look of desperation on his face. His life needs to change and in order to do so, he needs to stop repeating old patterns. He tells Kenzie that he needs to leave this trailer park or he's gonna end up stuck there like everybody else. She smiles, telling him that she'll go anywhere he wants to go. He shakes his head in disbelief, explaining that wherever he ends up, he's going alone. She pulls him down to the bed, saying that they should get some rest. Jack is wide awake thinking about his life and what he needs to do. He can't go on like this and has to make a decision. He gets up and packs some things and leaves the house. When Kenzie comes to, she calls out to Jack but gets no answer. When she turns around, she realizes that he's gone. She calls his name in a panic as the scene cuts to Jack walking outside. He looks tormented and directionless. As he glances back at his former life, he struts to the car, opens the door angrily and drives away.
Scene opens to Jack lounging in his car with his legs lying out the window. We see Joanna Angel in the distance walking towards the car. She looks ahead wondering who's inside the car and what they're up to. She walks towards it and knocks on the hood, waking Jack up in the process. He recognizes his classmate and greets her. When she asks him why he's napping in his car, he tells her that he wanted a good parking spot. They laugh as she offers to wait for him so they can walk to class together. When she offers him a coffee, he can't resist a free cup of Joe. He enthusiastically grabs his things and joins her.
Scene cuts back to Kenzie frantically searching through a makeup bag. She finds her birth control kit and sits down on the toilet. She waits for the appropriate time to pass and looks at the results. When she realizes she's not pregnant, she screams in agony begging the silence for a baby. She rubs her stomach as the camera fades to black.
Scene opens with Jack anxiously writing his test. Time runs out. His teacher asks the students to leave the exams on her desk. She then says that before they leave, she'd like to conclude the class with a sharing session. Joanna volunteers first, speaking honestly about how her parents laid out a path that has never served her and how she's been struggling and continues to struggle with making her life hers once and for all. Jack raises his hand and, with a defeated look in his eyes, confesses how his free will has worked against him, despite his best intentions. The teacher steps in, stating that it looks like he's getting ahead of the curriculum as they will be covering these very same topics next week. The class ends as Joanna asks Jack what time his next class is. When he responds that he has quite some time till the next one, she invites him back to her apartment, adding that it's not much but certainly more comfortable than his car.
Scene opens to Joanna and Jack making out as they lean against the kitchen counter. They stop for a moment and confess their feelings for each other as they embrace more passionately than before. As Jack runs his hands over her chest, Joanna runs her hands through his hair. He pulls up her skirt and starts eating her wet pussy. As he devours her, she cums all over his face. He gets up and unbuttons his shirt when she stops him to confess something. She stutters trying to get the words out, then finally tells him her big secret...she's a virgin. Jack is stunned and can't believe his ears. He tells her that he likes her and can wait if she wants to, but Joanna wants him now. She suggests he fuck her ass instead. He doesn't presume to understand her logic but will fuck her ass nonetheless. She leads him to the living room and takes off her panties. She gets on her knees and starts sucking his dick, deep throating it in the process. She makes sure it's nice and wet so it can slide perfectly into her ass. When she climbs on top of him, he starts thrusting himself in and out of her ass, pounding Joanna in the process. He fucks her missionary as he chokes her and then from behind. Fucking her doggie style, he cums all over her ass.
They get dressed. Joanna hopes to see Jack soon, adding that she would really like to get to know him better. Jack laughs, saying that he's pretty certain she wouldn't. When she asks him where his next class is, she finds out that they're going in the same direction. Joana tells him to wait up so she can join him. They exit her apartment, kissing under a sunshine-filled sky.
► Watch this episode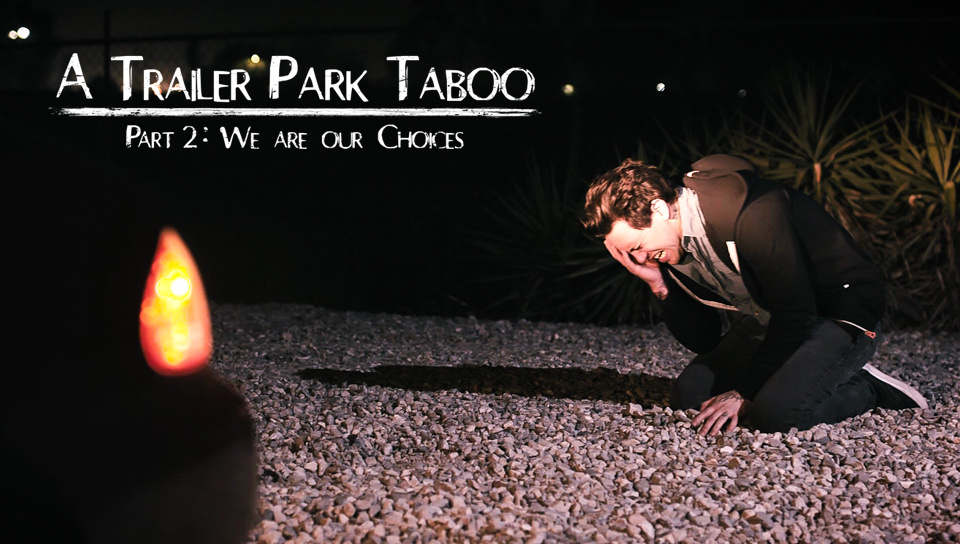 Trailer Park Taboo - Part 2
Winner XBIZ Best Sex Scene -- Feature Movie
Scene opens to Tommy Pistol relieving himself and zipping up. When he turns around, he asks India Summer where the car is. He needs to go buy some cigarettes. Kenzie Reeves enters the scene and greets the two as she sits down. When India reminds him that Jack (Small Hands) took the car to school, Tommy starts getting angry. He says that Tommy needs to stop wasting his time in school and get a job. When India retorts that his daughter's not working either, he reminds her that she's a tight little hottie who can sell her ass if need be.
Jack comes back from school and greets everyone. Tommy tells him that he better have filled the gas tank or he's gonna be sorry. Jack gives him a dirty look and kisses his mother on the check. Kenzie is ecstatic that her stepbrother is back as she grills him with questions. When he replies that she knew he was at school, she tells him she spotted a moving truck in the neighborhood and stole some brand new pillows from the back just for him. He shakes his head in disbelief and starts yelling at her that he didn't want her doing that. When he walks away from her in disgust, Kenzie realizes that she needs to regain control. She's losing him. She tells the family to gather around as she has some big news to share. When her parents ask her what it could possibly, Jack just looks on wondering what plan she's hatched now. Much to Jack's horror, she tells her family that she's pregnant. When her parents ask her who the father is, she looks at Jack and adds that it's someone special. Jack interrupts them asking Kenzie if he could talk to her inside adding that he would like to see those pillows she stole for them. With Jack and Kenzie gone, Tommy tells India that they should celebrate. He pulls her close and kisses her face. She asks him what he has in mind; he pulls her shirt up and starts sucking on her tits. When he pulls her pants down, he sticks his tongue right in her ass as she demands he shove it in deeper.
Back inside the house, Jack is furious with Kenzie. He can't believe she would pull a stunt like that. He thought her getting pregnant was impossible; she was on the pill for fuck's sake! Kenzie tells him it's a miracle and now they can finally be a family. He yells, asking if she realizes that she's clearly lost her fucking mind. They are on the brink of poverty and the last thing they need is another mouth to feed. When she tells him she's keeping the baby, he gets so angry that he slaps her in the face. When she screams for him to do it again, he storms out of the house and slams the door behind him. Kenzie is left on the bed all alone collecting her tears.
Jack gets into the car and turns on the ignition but it won't start. He slams the steering wheel and screams. When he gets out of the car, the punches the hood in frustration. He has no idea how he's going to get out of this. Trying to collect his thoughts, he paces back and forth. He sits back down in the car and pulls the seat back so he can lie down. He stares out into a starless sky and tries to find a way out of this nightmare.
Scene opens to early morning sunshine as Jack waits pensively. When he sees Joanna walking towards him, his face lights up for the first time in awhile. He kisses and thanks her for meeting him so early as she hands him a coffee. Back home, Kenzie walks out the trailer and closes the door behind her. As she gets on her bike, it's clear that she's on her way to look for Jack. She bikes through her neighborhood, looking around to see if she can spot her stepbrother. As Jack and Joanna chat on the park bench, Kenzie spots them from a distance and starts crying. She can't believe her brother would do this to her. She doesn't care who this bimbo is, no one is going to destroy the special relationship she has with Jack. When she goes to confront them, she tells Jack that he needs to come back home and give mom her car keys. Jack knows what kind of game Kenzie is playing but has to play it cool. He's very aware that she could ruin everything if she decides to tell Joanna about their relationship. When Kenzie invites Joanna over to the house, she's hoping that when she sees that Jack is white trash, she can count on her leaving their lives forever - and Kenzie can have her brother all to herself.
Scene opens with Kenzie back home going through her makeup bag again. She pulls out her pregnancy kit and prays to God that she's pregnant. She knows that once Jack sees their offspring he'll get rid of the bimbo and be Kenzie's forever. All she has to do now is test positive and have his baby. She sits down and waits for the results as she prays for a miracle. When the time elapses, it seems that God didn't answer her prayers because it's still negative. She smashes the kit on the floor and storms out of the house. When she finds her mother outside, she takes a cigarette out of her pack and lights it. Her mother tells her that she shouldn't be smoking, it's bad for the baby. Kenzie confesses that the kit indicated that she wasn't pregnant. She begs her mother to keep this a secret from Jack and her dad. India flat out asks her if she's just trying to get pregnant to keep a man; she explains that that didn't work with Jack's father, and it ain't gonna work here. The trick is to look and stay pretty. When Kenzie confesses that she hasn't felt pretty in a long time, India kisses her stepdaughter on the mouth, promising she'll make it all better.
► Watch this episode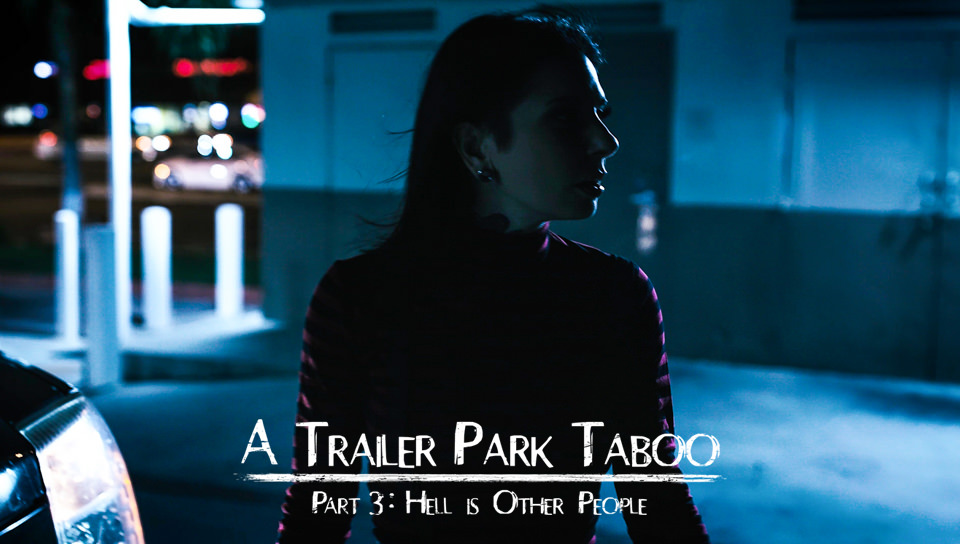 Trailer Park Taboo - Part 3
Winner XBIZ Best Sex Scene -- Feature Movie
Winner AVN Best Supporting Actress Joanna Angel
Scene opens on Joanna Angel on her bed studying hard for physics. She invites her friend, Abella Danger, over to help her. When Abella asks her how her relationship with Jack is going, Joanna confesses that she's really into him but that there's a slight problem; she feels like she doesn't know him at all. She has an idea and if Abella is willing to help her, she might actually be able to pull it off. Since most guys are into threesomes perhaps Abella could help her seduce him and maybe get him to open up in the process? When they solidify their plan to blindfold him, the girls are just in time as the doorbells rings. Jack walks in and introduces himself. Joanna tells him she's got a surprise for him and pulls him to the bed. When Abella starts kissing him, he gets the message fairly quickly. She takes off her top and blindfolds him. While Abella sucks his dick, she takes his wallet out of his pant pocket and takes a picture of his driver's license. Now that she has his address, she can check out where he lives and see what he's hiding from her. When they finish off, the girls leave the room temporarily. Jack spots Abella's purse on the floor, he hesitates for a moment but decides to finally open it. When he sees her wallet, he grabs it and quickly puts it in his pocket. He shakes his head in regret and leaves Joanna's place as he closes the door behind him.
Scene opens to Jack walking into his place. Kenzie is on the couch and is so happy he's back. When he tells her he's finally got hold of some cash to afford the abortion, she breaks down and starts sobbing. She exclaims that she wants this baby, that God wants this for them but Jack doesn't want to hear another word from her. He leans an inch away from her face and yells at her saying that he's her fucking stepbrother and not her boyfriend or husband. He doesn't want to raise a family with her and stay in this godforsaken trailer park. He grabs her face, looks at into the depths of her lost little soul and tells her he doesn't love her. He throws her back on the couch as she recoils. He then adds that they're gonna to go to the clinic tomorrow and get rid of this fucking baby that she wasn't even supposed to be able to have in the first place. Much to his surprise, she agrees. But Kenzie has one condition; he has to fuck her one last time, it's not like she can get pregnant anyway. He shakes his head but shouldn't be surprised, she grabs his cock telling him that he can shake his head all she wants but she knows there's a part of him that wants her. He yells at her telling her this is going to be the last fucking time.
Scene cuts to Joanna driving on a highway looking preoccupied. Meanwhile back at the trailer, Jack is taking all his anger and frustration on his stepsister. Pounding her, he chocks her every time she speaks. He doesn't want to hear another word coming out of her lying mouth. Joanna is now at the door, looking in watching Jack fuck his sister. When Jack cums all over Kenzie's face he does this to spite her. Joanna walks in with a look of disgust and when Jack tries to explain himself, she tells him he's a wretched liar and storms out of the room. Kenzie's is on the bed smiling. She finally has her brother back where he belongs. She knows he's not gonna amount to anything and he knows this as well. He sees it written all over Kenzie's face. As he starts to punch her, she screams for more, echoing his agony and shame. He storms out of her house leaving Kenzie bruised and wanting more while she sits up on the bed smiling victoriously.
► Watch this episode