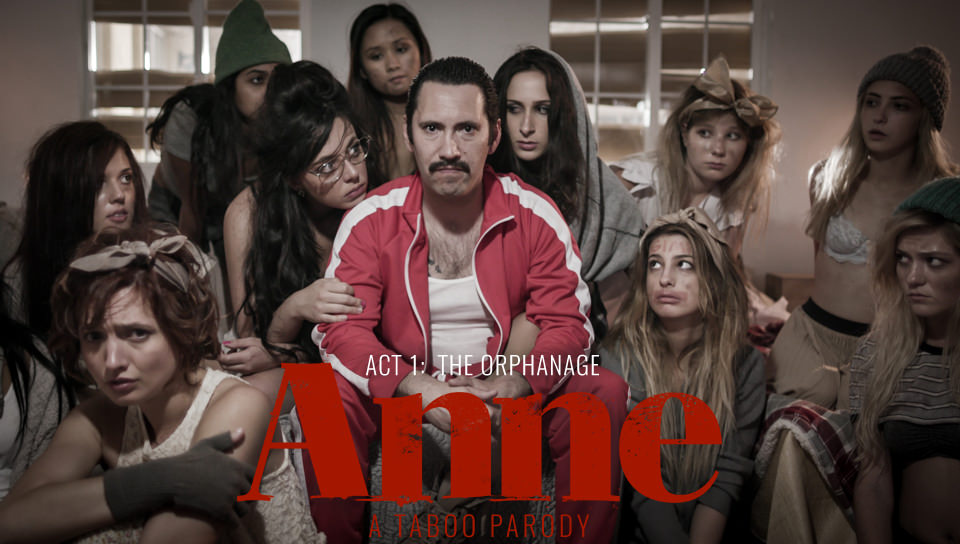 Anne - Act One: The Orphanage
Winner AVN Best Actress - Feature Eliza Jane
Winner XBIZ Best Actor -- Feature Movie Tommy Pistol
ANNE - ACT ONE: THE ORPHANAGE
SCENE opens late one night. A cop car pulls into frame and parks beside a large residential complex. The driver door opens, and a uniformed officer gets out, adjusting himself and sauntering up the front steps. A plaque on the door reads: The Hands Transition House for Wayward Girls. No one answers when he knocks, so the officer lets himself in.
CUT TO:
Inside the complex. The officer walks down a darkened hallway towards the main office of Mr. Hands. His transitional facility is a government sponsored orphanage that, according to state regulations, is supposed to release its orphans once they turn eighteen. But, Mr. Hands has discovered a much more lucrative way to retain them. He has built a secret room in the back of his property where he moves the girls once they come of age. There, he can keep them occupied to support his other business ventures and no one from the establishment ever needs to know.
But the officer knows. That is why he is here. He has been accepting bribes for years. When he enters the office, he walks in on Mr. Hands, dressed in a smoking jacket, receiving a blowjob from one of his girls. The 18-year-old orphan is dirty and half-naked, resting on her hands and knees to service the corrupt proprietor. She doesn't even look up as Mr. Hands casually invites the officerto sit down. 'Sorry, I didn't expect you tonight!' He laughs. The officer is used to the man's complete lack of discretion and curtly requests his monthly envelope. As he slowly takes it out of his pocket, Mr. Hands boasts to the officer about business. He has a fresh acquisition: an 18-year-old orphan named Anne. The girl had been dumped on his doorstep years ago and grew up in the orphanage. Despite being abandoned, she still holds out the naïve hope that one day her beloved parents will return, even wearing a broken necklace left for her by her mother!
Their conversation is intercut with tightly cropped shots of Anne being led up the back of the property to the secret room. We do not see her face, only her hands clutching a broken heart necklace as she walks nervously.
The officer cuts the man off and demands his envelope. He doesn't need a sob story. Just keep the girls low-profile and nobody should come around to bother him. After all, they're all adults, right? And he isn't doing anything inappropriate to them, right?!? The men laugh, as Mr. Hands stands up, dismisses the girl, and hands the envelope to the officer. He peeks inside before tucking it in his pocket and going to exit. 'Please tell me one thing, though,' the officer says, chuckling. 'Is this one at least pretty?' Mr. Hands curls his lips up in a sneer and says 'The prettiest one I've ever had. A redhead!'
CUT TO:
Inside the secret room. Anne's face is revealed for the first time, as she sits down on her new cot still clutching the broken heart necklace.
Anne stares out the window, still clutching her broken heart, as the camera slowly tracks back to reveal seven other 18-year-old orphans sharing the same room. The space looks more like a sweatshop than an orphanage, with work stations set up at each cot.
Mr. Hands has been using the girls as labor for a black-market business he has selling used panties. When they aren't producing for him, they work on webcam and other forms of men's entertainment to earn their keep. Free room and board ... plus some extra perks if they get along well with the boss. On this evening, two of the orphans are busy working a cam show while three others rub, remove and package a giant stack of panties. They've been at it all day and look exhausted. Another girl dolls herself up in a cracked mirror, getting ready for a special guest that evening, while, Sally, a frail girl lies huddled in her cot trying to get some rest. Her leg braces rest beside her.
Patty, the resident bully, comes bursting into the room with her sidekick, Bonnie. The two orphans have been with Mr. Hands the longest and enjoy making the other girls squirm. Sally is their favorite target. Bonnie grabs her leg braces and makes fun of her while Patty stirs up the other orphans to get involved, teasing that it won't be long before Mr. Hands gets tired of the normal girls and wants a go at the cripple. This is because, each night, he comes into the room and cherry picks a few girls to fuck him in exchange for work relief.
Patty starts to imitate him, going from girl to girl, groping and kissing them, and offering them favors in exchange for sex as they all laugh and play along. Sally buries herself under the covers to hide from their teasing, as Anne takes notice and rushes over to break up the crowd. Protecting Sally, she demands that Bonnie let go of her braces. When Patty comes at her, the two girls almost get into a fight. The orphans restrain Anne until she finally backs down, telling the bullies to stop picking on girls weaker than them. Patty retaliates by telling all the other orphans that they shouldn't support Anne. After all, she is the reason why Mr. Hands has been doubling down on the rest of them. If she wasn't such a goody-two-shoes virgin and just let Hands fuck her occasionally, life would be simpler. After all, it's not that hard if you just play along. 'But Anne thinks she's better than the rest of us, girls!' Patty yells. 'All because of that stupid necklace and the delusional belief that her parents actually love her!' Furious, Anne rushes her again and the orphans start to fight when Mr. Hands comes barging into the room.
The orphans panic and jump into their cots. Mr. Hands staggers through the room, demanding to know who was causing the ruckus. He pokes around each cot, unimpressed with the state of the girls' workload, before zeroing in on Anne, who is hiding in a corner of the room. Getting right up in her face, he accuses the orphan of distracting the other girls and keeping them from finishing their work. Before she can protest, he punishes her with double duty the following day. Several other orphans laugh gleefully as he doles out the punishment, but Mr. Hands quietens the crowd. 'Of course, there is one easy way to get out of this, Anne,' he says with a sneer. Anne tells him she isn't interested and tries to get around him. The lusty proprietor follows her, sneaking a look up her skirt and telling her it would only last a few minutes. All the other girls do it and some have even grown to like it.
He pulls Patty to her feet and starts to use her as an example. She is clean, well-fed, and has everything an 18-year-old girl would want. He pulls Bonnie up as well and bends her over. Looking at her friend with a smirk, Bonnie hikes up her skirt and pulls down her panties. 'Would you like my pussy or my ass tonight, Mr. Hands?' She asks submissively. He slaps the girl on the ass and tells her to make out with her friend to get him hard first. She does obediently. Anne turns away in disgust.
Mr. Hands fucks Bonnie and Patty in front of Anne to try and coax her into agreeing to be with him too. She continues to refuse his advances, even as the two girls join him in his taunts. They follow Anne all over the room, fucking and teasing her while she tries to avoid them.
Several other orphans chime in to pressure her while the rest watch nervously in silence. In the end, Mr. Hands cums in the mouths of his two most loyal orphans, who lick him up eagerly and tell Anne she is just being a prude. Her parents are never going to come for her. And she has nowhere else to go. Anne clutches her broken heart and asks Mr. Hands to leave her alone. Angry, the sweaty man rips the necklace from her neck and storms out of the room, leaving the girl to collapse in a crying heap as all the other orphans tuck into their cots and go to rest.
TWO WEEKS LATER
Anne is shell-shocked and depressed, having no hope left after her necklace was taken. She kneels on all fours, scrubbing the orphanage's courtyard, while the other girls goof off around her. Mr. Hands has made it his mission to break the girl's spirit by having her do all the chores by herself. Only the crippled Sally tries to help her.
CUT TO:
A luxury car pulls into the complex. A beautiful and well-dressed woman named Ms. Farling gets out and walks to the front door of the orphanage. She is the personal assistant of a very successful businessman named Anthony Westfield, who has been asked to invite a local orphan to his estate for an upcoming charity event. When Mr. Hands opens the door, he is immediately suspicious. His informants are supposed to keep people like this off his property, especially nosey women. When she hands him a letter from the state requesting his cooperation, Mr. Hands has no choice but to invite her inside. As they tour the kitchen and common areas, Ms. Farling tells the crooked proprietor that her boss never had a daughter of his own, so she is hoping to take in a teenage girl for the week as a surprise for him. Mr. Hands freezes. He tells her coldly that they don't have any good girls right now ... only delinquents and troublemakers. Disappointed, Ms. Farling agrees but just as they are about to exit she overhears the orphans in the courtyard. She can see them through a window and insists that she go down and look, despite Mr. Hands' protests.
CUT TO:
Ms. Farling enters the courtyard and all the orphans stop, stunned to see such a beautiful and sophisticated woman in their midst. They know they are not supposed to interact with the public and a few of them even try to hide. Anne is the only one who doesn't react, her face still focused on the floor. Ms. Farling notices her immediately and walks over, kneeling to address the sad looking girl. She feels so sorry for her. She asks her name and how old she is and, when Anne doesn't respond, Sally limps over to join them. 'This is Anne, ma'am,' she says politely. 'She is 18-years-old and has been here since she was a baby. One day, her parents are going to come back and get her!' A single tear streams down Anne's face as she makes eye contact with Ms. Farling for the first time. 'Is that true, young lady?' She asks, clearly moved. Anne nods slowly. 'Would you like to come with me and let me help you find your parents?' She asks. Anne smiles for the first time in weeks and Mr. Hands, who has been watching anxiously in the background, steps in between them. He tells Ms. Farling to ignore Anne, she is the worst of the lot. A thief. Not the type of orphan her boss would ever want in his home. Ms. Farling, her eyes never leaving Anne's, replies that she has made up her mind. Anne is the perfect candidate, even more so if she has a troubled past. After all, the press loves a good story and the girl will be a great fit for her boss' image. Mr. Hands tries to dissuade her, but the assistant reminds him of her court order. The state clearly says that she can select any orphan she wishes from under his care.
Left without a choice, Mr. Hands puts on a fake smile and assures the assistant that he will personally bring Anne to their estate in the morning. He is always supportive of charity. She smiles and, hugging Anne, tells her she will see her tomorrow. It's only a day away. She lets herself out, leaving Mr. Hands alone with the orphans. His fake smile turns into a snarl the moment she is gone. He plucks Anne up and drags her out of the courtyard, while the other orphans rush back up to their room.
CUT TO:
Mr. Hands leads Anne into his office and throws her down on the couch. He tells her that he has no intention of letting her leave after she has disobeyed him so many times. She begs him to let her go, pleading that this opportunity may be her only chance to find her real parents again. Mr. Hands laughs and pulls the broken heart necklace out from his pocket. He dangles it in front of Anne's face while using the situation to manipulate her. Why should he cooperate when she has been so uncooperative in the past? She knows what she needs to do to get favors from him. Desperate, Anne finally offers to have sex with Mr. Hands if he will agree to take her in the morning as he had promised. He smiles and makes her repeat her offer several times, to his amusement and sick satisfaction. Then he takes his pants down and takes Anne's virginity in his office.
Once he has cum, Mr. Hands staggers over to his desk. He pulls out a vial and a rolled-up bill, leaning over the desk to sniff something up, as Anne struggles to put her skirt back on. She asks what time she should be ready in the morning and, looking coldly at her whilst sniffing, Mr. Hands replies that he has changed his mind. He's going to bring someone else instead. Maybe Patty. Anne wasn't quite as good as he would have expected. A bit of a letdown, really, considering all those months of buildup. Betrayed and furious, Anne charges at Mr. Hands, screaming that she is leaving and that she wants her necklace back that he stole from her. The crooked proprietor grabs her by the throat. 'You're not going anywhere,' he growls before locking the orphan in his closet. He sits down at his desk, does another line, and puts his feet up as Anne pounds her fists behind the door.
► Watch this episode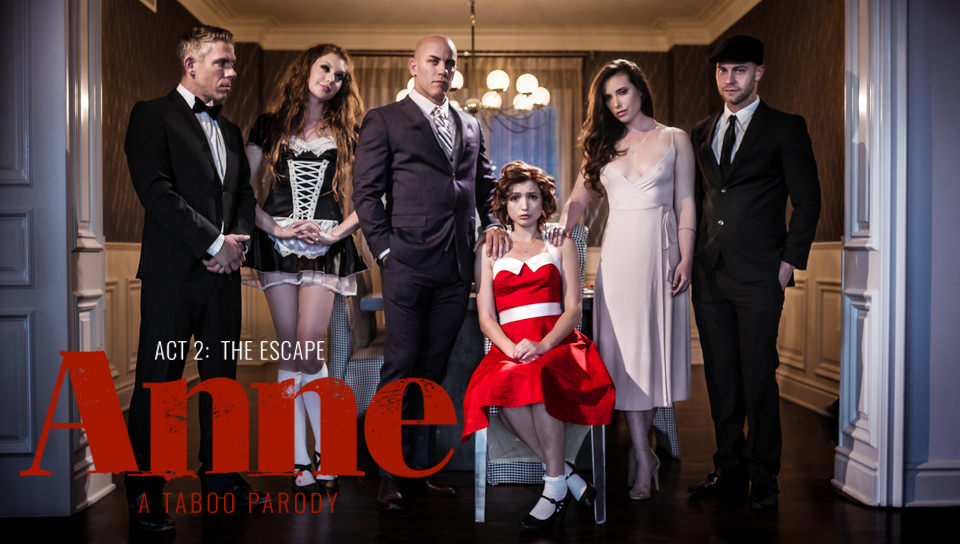 Anne - Act Two: The Escape
ANNE - ACT TWO: THE ESCAPE
SCENE opens inside Mr. Hands' closet. Anne is seated, curled up in a ball, when she hears the knob slowly turn. The door opens, as Sally crawls in towards her friend, her bad leg dragging behind her. In a hushed tone, she tells Anne to stay quiet and they slowly crawl out together. Mr. Hands is napping on his desk. As soon as the girls get out of the office, they quickly tip-toe through the common areas to the front door. Anne turns to thank her friend and Sally hands her Mr. Westfield's address. 'I copied it off the letter on Hands' desk while he was resting,' she says triumphantly. Anne hugs her friend. Sally smiles, reaching into her pocket and retrieving the necklace. 'Thought you might need this too,' she adds. Anne kisses her, before running off the property and into the night.
A car pulls up outside a large estate and Anne steps out, thanking the driver for letting her hitch a ride. It drives off leaving her to take in Mr. Westfield's mansion for the first time. It's the biggest, most luxurious house she has ever seen! But, as Anne looks down at her shabby outfit and dirty hands, she has a moment of self-doubt and starts to walk away when a gardener notices her. He calls out, asking who she is and Anne mumbles that she is here to see Ms. Farling. She is the orphan. Another gardener comes around the corner and notices her. He gives the girl a long look before using his intercom to call someone. 'Right this way,' he tells her, as both workers accompany the girl to the front steps.
A butler opens the door. He is very polished and handsome, dressed in a tuxedo. 'She is the girl that Ms. Farling told us about,' one of the gardeners says. The butler dismisses them before turning his eyes to the girl. 'You are the prettiest orphan I have ever seen!' He says. 'What is your name and how old are you?' Anne replies, and the butler extends his hand, inviting her inside.
CUT TO:
The Foyer. As the butler starts to explain the layout, Ms. Farling rushes into the room. She is still in her dressing gown and seems surprised that Anne is here alone. 'Sweetheart,' she says. 'I wasn't expecting you so soon. Is Hands still here? I have some papers for him to sign.' Not wanting to reveal what happened, Anne lies that he dropped her off at the gate but had to leave. Slightly agitated, as if expecting to have more time to prepare for the girl's arrival, Ms. Farling accepts her story. 'I see you've met Bruno, our butler,' she says, placing a warm hand on the butler's chest. He bows slightly. 'He will be at your service, morning, noon and night. But, let me show you the rest of the house. We have a lot to do today to get you prepared!'
CUT TO:
In a long tracking shot, the trio walk into the kitchen, where a CHEF is busy whisking in a bowl. She stops and stares at the girl. 'This is our personal chef, Mrs. Orchard,' Ms. Farling says before lowering her voice to a whisper. 'She is a little eccentric, but her food is delicious, I promise!' Anne laughs. They move to the living area, where a beautiful maid is extending herself to dust the tall corners of the room. Her stature is accentuated by a somewhat revealing outfit. 'This is Hilda, our housekeeper,' Ms. Farling says. The maid rushes over and gives Anne a warm hug, kissing her on each cheek. 'You are so perfect,' she says softly. 'daddy is sure to love you!' Anne looks up at Ms. Farling in confusion and the assistant grips her shoulders tightly. 'That's just what we call Mr. Westfield in this house,' she tells Anne. 'He is such a role model that I like to think of him as a father figure. It is very important to treat him with respect.' They keep walking, with the maid joining the group. Ms. Farling and the staff knowingly exchange glances, as Anne walks ahead of them innocently. They pass a darkened wing of the house, where a GAURD is standing watch. 'Who is that?' Anne whispers. Ms. Farling quickens her pace, explaining that this is daddy's office. He is inside right now, having a very important meeting and cannot be disturbed. That's why he has protection. Anne looks at the guard nervously. 'Come quickly,' Ms. Farling says. 'You are supposed to be a surprise for daddy ... and I don't want to ruin it.' They turn a corner and spot another well-dressed man. 'This is Michael, our driver,' Ms. Farling continues. 'He will take you wherever you wish to go. We have 12 different cars on the property.' Anne says hello shyly while the handsome driver kisses her hand and introduces himself. He joins them, and they move the tour upstairs.
CUT TO:
The second floor. As Ms. Farling explains the house's various features and rules, Anne looks around at the staff following them. They are all smiling at her intently. It makes her a little uncomfortable, mostly because she has never had so much attention focused on herself. She sticks close to Ms. Farling and asks the assistant if she really thinks that Mr. Westfield can help her find her real parents. The assistant stops and curtly reminds the orphan that, in this house, he is not Mr. Westfield. He is daddy. She must not forget that. It is a very important rule. Anne apologies but Ms. Farling cuts her off. 'There is no need to apologize, my darling. We are all here to help make sure you give off the best possible first impression tonight when you meet him,' she says. 'I know he is going to be so surprised when he sees that I've brought him a beautiful girl!' Anne looks down at herself again and mutters about not feeling very beautiful. Ms. Farling assures her that it is their responsibility during her stay to ensure she is treated like a princess. Anne should enjoy all the spoils of being at home here -- just as if she were daddy's real daughter. 'And then we can look for my parents?' Anne asks. Ms. Farling nods, adding that if anyone has the right connections to find them, it will be daddy. The staff eye each other and the girl lustfully.
'What would you like us to do first, Anne?' the butler asks, putting his arms on Anne's waist. 'We will do anything you want!' adds the driver. Ms. Farling smiles as the maid grabs Anne's shoulders from behind. 'How about we get you cleaned up?' She says, whispering in her ear. Anne gulps before slowly nodding and telling them that a shower would be nice. 'I think you're really going to like it here!' The assistant says warmly, leaning in to kiss the young orphan on the cheek.
CUT TO:
The bathroom. Anne is naked in the shower, being washed by Ms. Farling and the maid who have taken off their clothes to join her. She seems very awkward at their touch but is trying to fit in -- she wants to like it here. She needs to like it here. As they sensually scrub her body, Ms. Farling tells the orphan all about their boss. He is such a high-profile, busy man that he has never settled down or had a family of his own. When she began planning this charity event, she knew it was a perfect opportunity to change that. She wants to give daddy a feeling he's never been able to enjoy, despite his success. Ms. Farling seems so proud of her plan that Anne doesn't want to bring up her parents again. It might seem rude. But, that's all that she can think about. The women continue to stress the point of making a good first impression to daddy, so much so that Anne becomes very visibly anxious about it. The maid asks the orphan if she is OK and, after some coaxing, Anne admits that she's nervous to meet him. She's never been given so much before and she doesn't want to screw it up. Ms. Farling starts to steer the conversation towards how she and her staff deal with stress. They help each other relax, in every possible way. Taking a cue from the assistant, the maid chimes in to ask if Anne has ever enjoyed an orgasm. Anne confesses that she's never had one -- she won't admit what happened with Mr. Hands, but she alludes to having had a past negative experience. The women are surprised and insist that they help her -- especially if she wants to be relaxed for this evening. After a bit of coaxing, Anne agrees. She trusts the women. The maid and Ms. Farling work together to make Anne cum before leading the overwhelmed girl out of the shower where the butler and driver are waiting. They dry her off and then ask permission to make her orgasm too. Anne hesitates again but Ms. Farling reiterates the importance of what they are doing. They are only trying to help her prepare for tonight. 'And you really think that daddy will be able to find my parents?' Ms. Farling says yes, and Anne ultimately agrees. She has come so far already, she can't stop now. The staff take turns having sex and pleasuring her.
After they have finished, Ms. Farling dismisses the others, so she can help get Anne dressed. Excited at the prospect of giving daddy his surprise, the assistant proclaims she has the perfect outfit set aside!
CUT TO:
The dining room. Anne sits at a beautifully appointed table, wearing a stylish red dress and looking like the opposite of the orphan who arrived just hours earlier. The entire staff is also seated but the head of the table remains empty. After a long, awkward pause, daddy bursts into the room flagged by his guard. He is on his phone with his lawyer, clearly in a very bad mood, and pays no attention to the girl sitting beside him. The staff look at each other anxiously. Slamming his phone down, he demands to know what's being served as the CHEF ladles some soup into his bowl. 'Roasted carrot with crème fraiche,' she replies. daddy makes a face and starts eating, as he tells Ms. Farling to go over his itinerary for the rest of the week. His assistant pulls out her tablet and starts to break it down for him while Anne twitches in anticipation. At a certain point, daddy looks over and notices her. 'Who the hell is this?' He asks his assistant gruffly. Ms. Farling reminds him about the upcoming charity event he's hosting and how she was tasked to bring in an orphan to spend the week with him as part of the publicity campaign. daddy looks Anne up and down before replying that he thought she was going to get a pregnant. 'How old are you?' He asks. Anne replies meekly that she is eighteen. daddy grunts and tells Ms. Farling that a teenage girl is the last thing he needs in his house. Ms. Farling protests, advising him that it would be a nice idea to have him spend some quality time with a nice young woman, since he isn't married and never had a daughter. He stares at her coldly without responding. 'Besides ...' she nervously adds. 'It will look very good for your image, daddy. It will show the public a softer side to the Westfield empire and, hopefully, downplay some of the recent rumors...' daddy mulls this over before finally agreeing and asking for the next course.
While everyone eats their meal, Ms. Farling keeps encouraging Anne to talk about herself. She tells the businessman all about her life in the orphanage, the other girls she grew up with, and how happy she is to have been chosen to represent him as his daughter for the week. daddy remains cold despite all her efforts to charm him and the staff are so preoccupied with making sure the pair get along that is causes a lot of tension around the table. Finally, daddy excuses himself for bed and leaves abruptly, accompanied by his guard. Anne is crestfallen.
'He hates me, I just know it!' She says pitifully. 'Please don't send me back Ms. Farling ... I'll do anything to stay!' Hugging her tightly as the rest of the staff solemnly clear the table, Ms. Farling tells her not to give up. She will make sure Anne is not sent back to the orphanage. But, she needs her to be a little more convincing. daddy has a hard shell, but he is soft on the inside. All he needs is to feel like he is in control of the situation. That's how he runs his business. Anne asks what else she can do and, helping her to her feet, Ms. Farling suggests she go and say goodnight to the man - alone. If she can prove what a good girl she is, daddy will surely want her to stay and help her find her parents. As Ms. Farling accompanies Anne to the stairwell, she reminds her of how good the staff made her feel earlier. Anne nods nervously. 'That is how daddy likes it too,' the assistant adds. 'Remember that!' They walk to daddy's door, where the guard is standing. Ms. Farling tells him that Anne is going in to say goodnight and he lets her pass. She glances back at Ms. Farling, who shoos her in with a final look of encouragement. When she disappears, the assistant turns back to the guard and tells him to take a break. She needs to monitor this herself. The guard flashes her a quick smile and speaks for the first time. 'Bringing him a teenage orphan ... that's low even for you, Farling!' he jokes. 'Yes,' Ms. Farling replies curtly 'I know. But anything is better than the hookers at this point!' The guard walks off, leaving the assistant alone at the door.
CUT TO:
daddy's bedroom. The man is under the covers, in his pajamas, and on his phone when Anne enters timidly. 'What are you doing in here?' He demands, shocked to see her. 'Nobody comes in my room without my permission!' Anne, putting on a brave face, marches over to the bed and tells him that she wants to say goodnight. They may have got off to the wrong foot downstairs, but she wants him to know that she is the best possible orphan for his charity event. daddy is not amused. He asks if his assistant put her up to this. 'That woman is always meddling in my private affairs,' he grumbles. Anne bites her lip and sits down on the bed boldly. 'Now listen daddy,' she says. 'You are rich, powerful, and very intimidating. When I walked into your house today, I knew I had walked in to somewhere special. And I'm going to be the greatest daughter you've ever dreamed of -- even if it is only for pretend!' daddy cuts Anne off and gets right into her face. 'I don't need a daughter,' he replies. 'I just need a photo op!' Anne shrinks back. She mumbles something about being a good girl. daddy laughs. 'When I want a girl, I hire one. I don't want to be your fucking parent!' He barks, turning back to his phone. 'Now get out of here before I call security.'
Anne slowly gets off the bed and starts towards the door, crying. She knows that daddy is the key to her future, to finding her real parents. If she leaves now, she leaves with nothing. Like Ms. Farling said, she just needs to convince him. Something inside her snaps and Anne spins around. 'You're wrong!' she screams, storming back to his bedside. 'You do need someone to love. Not someone you have to pay for; someone who will worship you and respect you!' She breaks down before him, twitching in her red dress. 'I have spent eighteen years searching for my parents. They abandoned me. But you won't!' daddy doesn't know what to do. He tells the frazzled girl to away from him. She's a god-damn youngster, what will the press think? Anne starts to cry in a panic. 'They will think I am going to be your new daughter. I promise to be a good girl for you. I promise you will come to love me ... if you just give it a chance. I will do anything you ask, daddy! BUT I'M NOT LEAVING THIS ROOM!' She starts to climb on the bed towards him as he shrinks back, yelling for Ms. Farling. 'She only wants what's best for you too,' Anne continues pleading. 'Just give me a try, daddy... I need your help!' daddy gets very angry and leaps out of bed to physically escort Anne out. She kicks and screams as he struggles to carry her to the door. In desperation, she starts to kiss and grab at him too. They struggle before he throws her back on the bed. 'Are you making a pass at me, little girl?' He growls, towering over her. 'Because I will tear you up!' Not knowing what to do, the tear-streaked orphan tells him yes, if that's what he wants. He can do whatever he wants to her if he will just let her stay and help her afterwards. Her constant advances awaken something inside of daddy and the icy, distant man rips her dress off. Staring down at the naked girl, he reveals himself and tells her to suck it. It's been days since he could hire a girl anyway.
The harder he pounds; the more Anne calls him daddy and begs for him to accept her. She slowly breaks the man down. His hate fucking slowly turns into passionate sex, with the pair kissing and acting lovingly by the time daddy cums inside of her. Their sex is INTERCUT with shots of Ms. Farling watching and masturbating from outside the door.
After they have finished, Anne kisses daddy and they share a tender moment. Ms. Farling enters and, giving her boss a knowing look, informs Anne that it is time for bed. 'You see, I always have your best interests at heart, don't I daddy?' She says and leads the naked orphan out of the room, holding her hand. The man falls back on his bed and a smile crosses his face.
CUT TO:
Anne's new bedroom. Ms. Farling tucks Anne in and kisses her on the forehead, telling her how proud she is of everything the young orphan did to prove herself. She knew Anne was special! Once alone, Anne says a short prayer to her parents. She tells them that she is doing everything she can so that one day they will be reunited. Hopefully. She snoozes happily, holding on to her broken heart.
► Watch this episode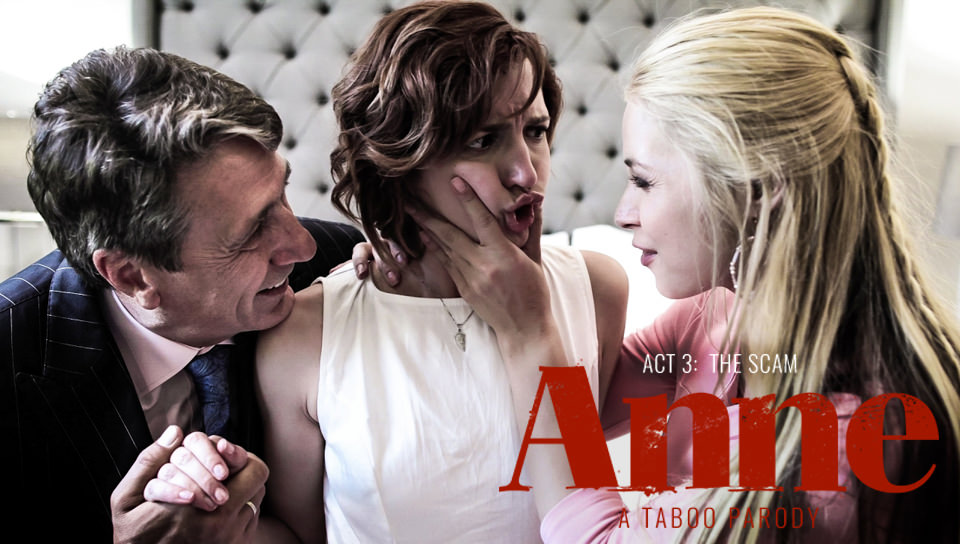 Anne - Act Three: The Scam
ANNE - ACT THREE: THE SCAM
SCENE opens in Anne's bedroom. She is slowly being woken up from her slumber by daddy, grinning ear-to-ear with lust and devotion. Overnight, he has become a new man, obsessed with his princess. While the rest of his staff watch eagerly from the doorway, he hands the girl a surprise -- a beautiful, brand new necklace from the fanciest jewelry store in town. He tells Anne that he had Ms. Farling go and order it especially for her, as no daughter of his should wear a rusty piece of tin around her neck. Anne smiles at daddy as he takes the necklace out of the box and shows it off, but her expression soon fades. She tells him that she is beside herself with happiness. He is the best daddy she could ever ask for and the charity event at the end of the week is going to be perfect -- but she cannot accept the gift. She explains that her broken heart is the only thing she's ever had that belonged to her real parents. She still believes that they are out there somewhere and, until she finds them, she will never take it off. That is why she is here. She needs his help. daddy studies her for a moment before breaking away. He summons Ms. Farling over and, in a low voice, asks if his assistant had completed the background check on the girl. She nods quietly, whispering that they could not find any traces of the parents. daddy hushes her and goes back to Anne. Horny and desperate to keep her happy, he pledges to post a reward for any information related to finding her folks. Anne bursts into tears, hugging him. 'You really mean that?' She says. He nods, adding that with his connections they should be able to find her parents within days. Anne hugs him as he clutches onto her body lustfully and sends Ms. Farling to alert his publicist.
Several days later. Mr. Hands is sitting in his office, angry, when PATTY brings him a newspaper. Anne is on the front page with a headline that reads: $1M Reward for Real Parents. The villain can hardly believe his eyes. He kicks PATTY out of the room, does another line, and places a call. 'Sis,' he says in a one-sided conversation. 'Get over here now. Bring the husband. I've got a job for you two!' Slamming the phone down, he wipes his teeth with his finger and walks over to his safe. Fumbling to unlock it, he finally does and pulls out a manila envelope with Anne's name on it.
CUT TO:
A door knocks. Mr. Hands opens it quickly to reveal his sister and brother-in-law standing there. They are a very trashy looking couple, especially the husband, Mr. Budge. While Mr. Hands tries to hurry them through the courtyard towards his office, Mr. Budge insists they make a pit stop to visit his secret wing. It's been awhile since he got a good look at his girls. Mrs. Budge agrees with her husband, urging her brother to let them go and just have a quick peek. Irritated, the crooked proprietor says fine and tells them to hurry. He hasn't got all day.
CUT TO:
Mr. Hands leads the couple through the secret room, as they drool over each girl. The orphans shrink back at the site of the truly disgusting and distasteful couple. They are even worse than Mr. Hands!
CUT TO:
Inside his office, Mr. Hands orders the couple to sit down. He has a business proposal for them. One of his girls has been taken in by a very wealthy businessman and they are now offering one million dollars to find her real parents. 'I ain't killing anyone,' Mrs. Budge says curtly. 'Not after last time!' Mr. Budge tells his wife to shut up and stop interrupting her brother. He asks Mr. Hands what he is getting at. 'That reward money belongs to me,' Mr. Hands replies. 'If they are going to steal one of my girls, I'm at least going to be the one who benefits from it. And I'm willing to cut you both in 50/50.' Mrs. Budge is still hesitant. She accuses her brother of being a pathological liar and asks why they should believe him. Mr. Hands tells his sister that he knows they are looking to get into his business. He sees the way they look at his girls. Doing this job for him would be a perfect trial run for a longer-term partnership. Mr. Budge is very eager to hear more and, shutting his wife up again, asks his brother-in-law what they would need to do. Mr. Hands explains that all they must do is convince Anne that they are her real parents. And he has all the inside information they would need to perfect their con. He hands them the manila envelope containing photos and documents about the parents who abandoned the girl so many years before. They are dead. All the records are there. But, more importantly, he has this. Mr. Hands pulls out the other half of Anne's broken heart necklace. 'You flash this little memento in front of her eyes,' he says, with a sneer. 'And the money is as good as ours!' Mr. Budge eagerly takes the necklace from his brother-in-law's hands. The men start to laugh. 'Not so fast,' Mrs. Budge says. 'I haven't agreed to anything yet.' Her husband starts to plead with her, as she stares coldly into her brother's eyes. 'We're only going to do it,' she continues. 'If you add a little cherry on top.' She smacks her lips and motions back to the secret room. Mr. Hands sighs and asks which one she wants. Smiling, Mrs. Budge replies that she liked the little vulnerable one in the corner. The girl with the braces. If Mr. Hands will agree to let them have a go with her, then they will be happy to play pretend parents afterwards. Mr. Hands seems irritated by his sister's demands but agrees and leaves the room to go fetch Sally. The creepy couple smile at each other, as Mr. Budge puts the necklace around Mrs. Budge 'S neck.
When Mr. Hands returns with the crippled girl, she is clearly nervous. 'That's right, Sally,' he says, taking her leg braces from her and leaning her up against the table. 'Just do everything this nice couple wants and then one week off, as promised.' Sally nods meekly, before asking Mr. Hands if that can include some television. She misses it so much. The crooked proprietor laughs and turns to the couple. 'Be careful with her bones,' he says distastefully. 'She's got muscular something or other. But, she bends easily if she has something to prop herself up with.' Mr. Hands winks at the girl and, taking her leg braces with him, says that he'll keep these outside for safety. He leaves as the couple close in on the girl.
'How old are you?' Mr. Budge asks, his hands wringing. Sally tells the couple that she just turned 18 a few months earlier. They cannot contain their excitement. 'Young and eager,' Mrs. Budge adds. 'Just the way we like them!' She kisses Sally on the mouth. A long, awkward kiss. 'You sure you want to do this, sweetheart?' Mr. Budge asks the girl. 'You seem a little reluctant. We don't want to have to call old Handsy back in here, do we?' Sally shakes her head and tells them in a monotone voice that she wants to please them both. They can do whatever they want to her. The couple kiss triumphantly, before Mrs. Budge undoes her husband's pants and guides Sally down to his penis. From the corner of her eye, Sally spots the broken heart necklace dangling from Mrs. Budge 's neck. Her mind flashes back to the moment when she handed Anne the other half of the same necklace. 'Where did you get that?' she asks, her mouth full of cock. Mrs. Budge laughs and says it's a family heirloom. Then she joins the girl in sucking her husband's dick.
As she is bent over the desk and penetrated, Sally sees the newspaper with Anne's photo. She begins to piece together what is happening, especially as MR. and Mrs. Budge begin to make jokes and off-the-cuff remarks about the con and their future fortune. Knowing that she may be able to help her friend, Sally plays up the submissive act to try and get more information. In the end, Mr. Budge cums all over Sally's face but not before she has a pretty good idea of what the couple plan to do. Mrs. Budge calls Mr. Hands back in the room, yelling that they are done. The crippled girl takes her leg braces back, without making eye contact, and quietly exits the room.
CUT TO:
SEVERAL DAYS LATER
Inside the mansion. It's the end of the week and everyone is busy preparing for the charity event, blowing balloons and hanging up streamers. daddy and Anne sit in an adjacent room practicing their speech with Ms. Farling when the doorbell rings. The BUTLER answers and is surprised to see a clean-cut couple standing on the doorstep. It is Mr. and Mrs. Budge but they introduce themselves as the Knox family. They claim to be Anne's biological parents! When they saw the newspaper headline about their dear sweet Anne, it felt like the miracle they'd been waiting eighteen years for! They invite themselves into the mansion, as Anne overhears them and drops everything to rush over. She looks them both up and down. 'Mom? Dad?' She says, collapsing into Mr. Budge's arms. daddy looks devastated as he asks the man if he is certain that this is his daughter. Before he can respond, Mrs. Budge pulls out the broken heart necklace hiding underneath her blouse and says she has never been so sure about anything in her whole life! Anne sees the necklace and breaks down. She thanks daddy profusely for helping to reunite her with her parents. Ms. Farling, suspicious, whispers to her boss that they should confirm this lead before concluding anything. They can ask them to leave until they've done the proper due diligence. But daddy, staring stoically at the daughter he nearly had, cannot bring himself to break her heart again. After all, he has truly fallen in love with the beautiful young orphan. So, he suggests that he and his staff give the family some privacy to gather up her things. He shows them to the stairs and, as they head up, Anne hugs him one more time. 'Thank you, daddy,' she whispers in his ear. He watches her go upstairs with the parents before turning back and storming through the house, tearing down some streamers.
CUT TO:
Inside Anne's bedroom. Anne starts packing her bags while trying to connect with her long-lost parents, but something makes her feel uneasy. Their affection seems insincere and almost sexual. They don't want to catch up at all, they just want to talk about how pretty Anne is and how much fun they are going to have with her. They also seem to be arguing over something, although Anne can't quite figure out what. Her supposed father wants to wait until they leave to 'give it to her' but his wife is urging them to do it quickly now. It isn't going to take long. 'What isn't going to take long?' Anne asks innocently. Agreeing with his wife, Mr. Budge tries to grope Anne. She backs away awkwardly. MRS. BUDGE asks if she will come and sit down on the bed beside her. When she agrees, Mr. Budge slides in too and starts to kiss her. Anne asks why her parents are acting this way and they explain that this is just how their family shows affection. She tells them about everything that happened to her in the orphanage and how long she held out for them to return. 'Then how come you're being so distant with us now?' Mr. Budge jokes. 'Don't you want to kiss your mama while we wait?' Anne looks over at her supposed mother and slowly nods. The women kiss awkwardly. 'Now, come over here and suck daddy's dick,' Mr. Budge says. 'Quickly. Just like a good girl would!' Anne thinks about daddy and everything the man had done for her. All she did was be a good girl. Maybe that's all she needs to do now. The confused orphan slowly agrees and gets on her knees, as Mrs. Budge pushes her head towards her husband's dick.
CUT TO:
Downstairs. daddy stares into space, utterly depressed, as Ms. Farling paces in the living room making calls. The other staff linger, taking down the decorations when suddenly, one of the gardeners bursts into the house carrying Sally in his arms. He yells for his boss and they help deposit the exhausted girl onto a couch. Breathless, she tells daddy who she is and where she comes from. She's been out all night trying to find them. Anne is about to be snatched by two criminals. They were hired by Mr. Hands. She overheard the whole plan. As soon as daddy hears this, he flies into a rage and storms up the stairs, his staff chasing him.
CUT TO:
Mr. Budge is pulling up his zipper, having just cum on Anne's face, when daddy bursts through the door. He takes one look at his princess before knocking Mr. Budge to the ground, as Ms. Farling grabs Mrs. Budge and wrestles her into submission. Shocked, Anne tries to defend her parents. What the hell are they doing to them! MRS. FARLING restrains her while daddy, the GUARD and the BUTLER drag the two criminals out of the room. She sobs into the assistant's chest, screaming at daddy to stop hurting her parents. She is inconsolable! A few moments later, daddy slowly re-enters the room with Sally. As soon as Anne sees the other orphan, she stops. 'What is happening?' She asks them all. Sally wipes the semen off her friend's face, as the two girls hold each other. 'I need to tell you something,' she says. Those people were not your birth parents. They were imposters, sent in by Mr. Hands. Your birth parents are dead. She hands Anne the manila envelope.
The room becomes eerily still, as the weight of the truth hits Anne. She pours through the photos and documents, as everything she has ever hoped for disappears. In a daze, she gets up and slowly staggers out of the room.
CUT TO:
Anne descends the stairs, with daddy following. Tears are streaming down her face. The man tries to comfort her, apologizing for her loss. He will do anything she wants. He loves her. As he consoles her, Sally and the rest of his staff follow them in the background. Anne buries herself in his chest. 'Please fuck me,' she says frantically. daddy steps back, confused, and assures her that she doesn't have to do that. Not now. 'I don't care,' she cries, looking up at him. 'I need to feel something ... anything other than this!' She starts pulling at his belt like a maniac, as he looks around nervously for his staff and tries to talk her out of it. But, something else has snapped in Anne. She demands that daddy make her cum. If he loves her, he will make her cum. She needs to feel something, she begs repeatedly. Finally, the man agrees, and they start to have sex in the living area.
His staff, who are gathering around them, look at each other awkwardly. 'You are all dismissed!' daddy says, trying to be authoritative mid-pump. But, the staff stay frozen, looking on stunned as the pair switch positions. Sally tries to intervene, asking if Anne is ok. She's probably in shock. Ms. Farling chimes in that she could call a doctor. 'Please Sally,' Anne begs frantically. 'This is what I need to do!' The staff urges each other to leave but Anne insists they stay, she wants them to watch, she wants them to join. She insists this is what they all need. The staff slowly start to undress and join the fray, gathering in an intense orgy born out of Anne's insatiable hunger.
When all the group is spent, daddy cradles Anne in his arms and tells her he loves her. 'Ms. Farling,' the man orders. 'Call the police! I want that orphanage shut down immediately!' The assistant nods and, gathering up the other staff, exit the room. Wiping her eyes, Anne asks how Sally got away from Mr. Hands. With a smirk, she tells Anne not to worry about it. They hug again.
► Watch this episode