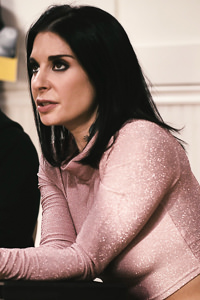 Joanna Angel
Details
Height : 5'0"
Weight : 102
Eye Color : Brown
Date of Birth : 1980-12-25
Zodiac : Capricorn
Hobbies : Working out, reading, writing, listening to metal, and having sex with my stepbrother. JUST KIDDING!
Twitter : https://twitter.com/joannaangel
Joanna Angel's Biography :
Joanna Angel was born in New Jersey and comes from a religious background. She was definitely horny and curious as a teen but too awkward, shy and acne-ridden to actually make any of her fantasies happen. She spent most of her high school years dry-humping pillows until finally losing her virginity at 19. Prior to her career in the adult industry, she wanted to work for Amnesty International or some kind of human rights organization. She got her start in the business in 2002, while still in college. She decided to put naked photos of herself on the internet. Her favorite movie is Heathers; it has death, humor, sarcasm, hot chicks, and a young and handsome Christian Slater. It's perfect. She is a fan of horror/thriller movies, and prefers the campier movies with tons of blood. She also likes zombie movies a lot. Her three top preoccupations in life when she's not on set are: listening to music, cooking food, and buying excessive amounts of black clothes. She says that shooting her scenes for PureTaboo was awesome because they were all anal. Responding to how she thinks the nature of Pure Taboo will affect society, she says that her hope is it makes people horny. If it doesn't then she's failed at her job. Asked if she ever been caught doing something taboo, she says that just the other day she was caught taking a pair of dirty socks out of the hamper and putting them on. She really needed some socks!