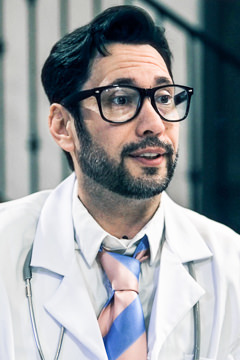 Tommy Pistol's Biography :
Born and raised in Astoria Queens, New York, Tommy Pistol currently resides in Los Angeles, California.
Growing up, Pistol was sexually prude, "I masturbated a lot."
Pistol shot his first sex scene on a roof top in Brooklyn. Among his most outrageous sexual encounters were shooting in Berlin with kink.com, and shooting for Public Disgrace in San Franscisco.
Pistol worked as a handy man before his porn career. He was lead singer in a NYHC band for 5 years, and he did sketch comedy. "My friend knew Joanna Angel and got me an interview with her for her first sex scene."
His biggest fear is deep water. If trapped on a deserted island with only 3 items, Pistol would want "a knife, to cut wood and kill. A compass, because I'd really like to not get lost more than I am. A good walking stick, for hiking and fishing."
His three favorite books of all time are Stephen King's The Cell, Fear and Loathing In Las Vegas by Hunter S. Thompson, and a crime thriller called Blindsided by Jay Giles. His favorite movie is Evil Dead 2, "Best mix of campy horror and comedy." Pistol is a fan of horror movies, "like comedies, they need to make me feel something."
His favorite position is spoon and cowgirl. Pistol is never recognized in public. When he's not filming on set, his main preoccupation is family.